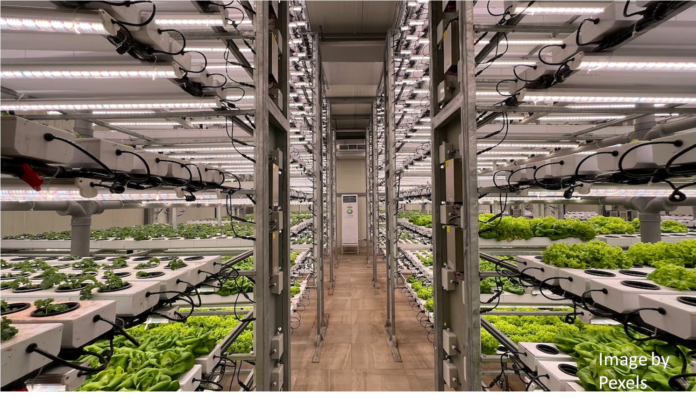 Through innovation and technological advancement, the vertical farming industry has been seen as a way to redesign and rethink existing food systems while combating climate change. Players within the industry have attracted greater investments than the majority of the remaining AgTech sector.
Advantages observed include the need for up to 90% lesser water; a chance to curtail exposure to e coli and plant diseases; decreasing fertilisers polluting nearby water systems; elimination of pesticide usage; minimising cold chain logistics; and protecting crops from sudden and extreme climate change.
However, the climb of the industry is now being questioned and criticised, as investors start to wonder about the economics of indoor farming, compared to something that has existed for thousands of years.
Some concerns that have been raised:
Lighting and HVAC requirements are far greater for plants than they are for humans. From the time of setting up, even before operations can begin, depreciation of the equipment begins.
Instead of spending on labour, companies invest to automate. Once the tech is implemented, funds are dispersed as exorbitant salaries being paid to robotics and software teams managing these systems.
While production within cities assures freshness and reduces cost of transportation, production outside cities lowers costs of property, labour and energy; with the added need for cold chain logistics. Fluctuations in electricity prices make this energy intensive industry particularly vulnerable.
A study conducted by Cornell University in 2020, found that lettuce grown in New York and Chicago's indoor farms cost twice as much as lettuce supplied from the West Coast.
Seeking Silicon Valley-like returns, investors are more interested in tech companies rather than farming companies. To attract such investments, startups are choosing to work on 'own' technologies for many different functions – planting seeds; moving trays; harvesting crops; monitoring plant health; adjusting humidity,light,nutritional requirements, etc. R&D is expensive.
Here's some news on what some vertical farming companies have experienced in recent years.
With a 60,000 square foot warehouse in Braddock, Pennsylvania, USA, Fifth Season was growing tens of thousands of pounds of baby romaine lettuce using automation technologies to package and sell salad kits through major supermarket chains. They spent US$27 million on the farm in Braddock, that produced nearly 4 million salads a year. With major spending on expansion plans, projected sales were sky rocketing and even solar panels were being installed to set up a microgrid. And yet, in the blink of an eye, water lines were drained, electrical equipment was shut down and employees were let go – as the company closed down.
From Appalachia USA, AppHarvest a high-tech greenhouse company growing tomatoes and green vegetables raised around US$640 million. The company went public in 2021. In the first nine months of 2022 they recorded US$83 million in net losses. Revenue for that same period was roughly US$10 million, though they spent nearly US$7 million on severance pay while letting go of two of their executives. With shareholders losing interest, the company went out of business when it failed to raise enough funds to stay afloat.
In the outskirts of English town Bedford, a large high-tech vertical farming facility was inaugurated in June 2022, set up by European vertical farming company Infarm that had secured over US$600 million in venture capital. By November 2022, the founders announced their decision to downsize operations in UK, Netherlands and France, hoping to concentrate efforts in markets where they had higher chances of becoming profitable.
Irving Fain, founder CEO of Bowery, a vertical farming company from New York that started in 2015 shared his insight on the matter. He describes it as the "natural evolution and maturation of growth in a new industry." He uses the automobile industry as an example, which had around 250 brands in the early 1900s, that tapered in number soon after.
While many larger vertical farms are far from profitability, some smaller players that aren't in the limelight seem to be sustaining their business models.
Soli Organic, growing organic herbs using their patented process, traditional and indoor farms, are selling their produce through Walmart and Wegmans. Little Leaf Farms, is growing in automated greenhouses. YesHealth Group (Taiwan) has been developing vertical farms with custom LED lights for over a decade. Some other companies like Oishii, offer produce with promise of a unique flavour, at premium rates.
Using renewable energy may help reduce the carbon footprint but will not cover farm energy requirements. "In a typical cold climate, you would need about five acres of solar panels to grow one acre of lettuce," says Kale Harbick, a USDA researcher studying controlled-environment agriculture.
Some American farms are incorporating the Dutch greenhouse model: no corporate offices, a smaller staff size and outsourced technical support and IT teams. The 'Head Grower' is also the facility manager and the payroll manager. As done in the Netherlands, greenhouses are quite effective for large scale cultivation.
Farm companies that focus intensively on technology may take 5-10 years to attain profits. Until then, operational expenses are met by frequently raising capital. Even though there is promise of future reward, as and when the market fluctuates, investors lose confidence in the companies and even forget that their investments aren't in Silicon Valley. Chris Cerveny former Head of Grow Science at Fifth Season shared that he thought investors knew it was a long game, and yet, they suddenly think of nothing but their return on investment.
Investors do gravitate towards revolutionary technologies more than improvements in operations and business models that are already proven to work well in this sector. Eric Stein, a Penn State business professor, has been collecting data from farms on their operational cost per pound of lettuce. His aim is to identify farms are most efficient and share lessons for the indoor farming industry as a whole. He believes that indoor farming can be a viable business, though not in the way that some investors expect, nor what some startups have been promising. In his opinion, a farm can have a margin of around 25% but not one of 150%.
Startups have also been overestimating how quickly they can grow. Urban farming consultant and founder of Agritecture, Henry Gordon-Smith shares the example of AeroFarms, a USA based company that predicted in 2015 that they hoped to build 25 farms in five years. In reality they have two large commercial farms in USA and an R&D facility in Abu Dhabi. AeroFarms also presented their investors with a projected growth from US$4 million to US$553 million from 2021 to 2026.
According to Cindy van Rijswick, a strategist at the Dutch research firm RaboResearch, though members of the industry have been impacted quite adversely, the technological advancements have made quite an impact, even if not directly to end consumers. She feels that LED powered indoor farms can be paired with traditional farming techniques to boost growth of young plants or even to grow larger number of plants, for research purposes.
While demand for locally grown, pesticide-free food is growing, it's largely not enough to offset such high costs for high-tech operations. Some have expressed that companies should expand in countries that have cheaper energy, where it's harder to grow crops outdoors.
The impact that climate change is having on us, is already a reality. Floods, droughts and heat waves increase the occurrence of crop failure. Indoor farming is becoming more and more of a necessity.
But the question is, will the aspiration for high returns stand in our way, in our journey towards food resilience?